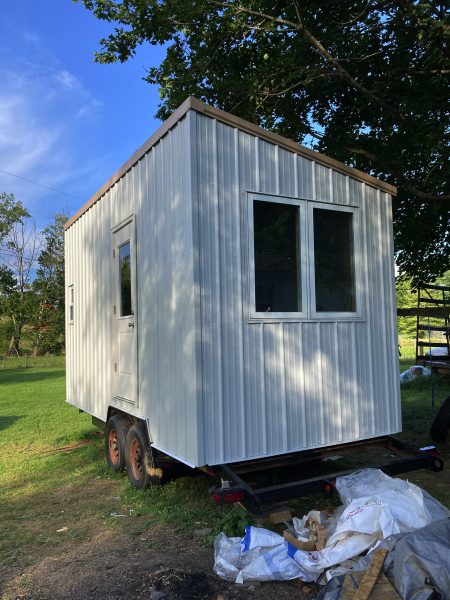 Annika Fisher's Summer Project: A Little House
While most GC students spend their summers in internships or traditional jobs, Annika Fisher chose a more unique project: building a tiny house.
Fisher, a sociology and art double major from Staunton, Va., has a concentration in pre-architecture and plans to apply to a graduate program in architecture after graduation. When formulating summer plans last spring, she said, "I had the idea of ​​building a little house that would still give me a resume item to apply for graduate school and also familiarize myself with. with construction and learning life skills that would be relevant.
In fact, Fisher's interest in tiny houses began long before last year and has even influenced his current career plans.
"I've been interested in tiny houses since seventh grade," she said, "and then I started drawing floor plans for them and everything, which led me to get interested in architecture."
The layout and design of the tiny house were all determined by Fisher, giving him the opportunity to explore his interest in small-scale architecture. She started the design process with an 18-foot trailer purchased from a car dealership, so she opted for house dimensions of 8 feet by 18 feet. Then she planned the interior as efficiently as possible to save space.
The finished exterior of the Fisherman's Cottage. Photo by Annika Fisher.
"The front doors are off to the side and on one side is the bed, about 3.5 feet above the floor for loads of storage," she said. "To the left is the kitchen with a dining table, sink and counter. At the back, there is a bathroom with a shower and a compost toilet. She noted that the tiny house will eventually have built-in plumbing.
For now, only the exterior is finished, so the interior will be the priority for next summer. "We wanted it to be weatherproofed so it could sit outside during the school year, so all the foundation, subfloors, walls, siding, roof, windows and doors are indoors," Fisher said.
Once the house is completed, Fisher intends to live there while she completes her graduate program, assuming that is permitted by university or city regulations.
Fisher was assisted on the project by her father, whose construction knowledge and moral support proved invaluable. "Spending a lot of time with my dad was fun," she said, especially since she lives away from him during the school year.
Building the tiny house forced Fisher out of his comfort zone due to his lack of basic knowledge. At first, she said, "it was a lot of googling and asking questions."
"It was really frustrating at times, and there were times when I was like, 'How are we going to solve this? This is harder than I thought! But overall it was very funny.