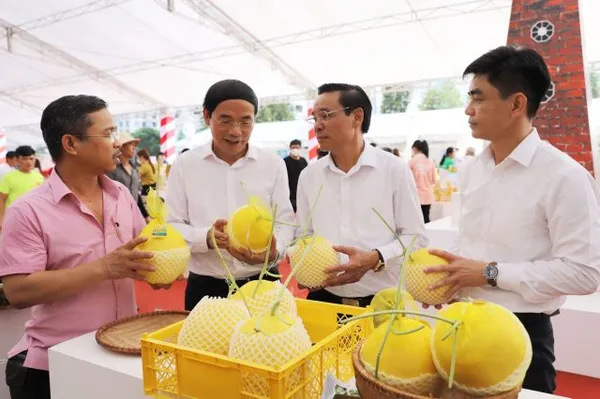 Capital rewards nearly 600 OCOP products in 2021
VIETNAM, July 26 – HÀ NỘI — The capital has recognized nearly 600 One Commune, One Product (OCOP) products in 2021, according to a ceremony in the city on July 23.
The recognition announcement ceremony saw the participation of Vương Đinh Anh, Deputy Head of the New Rural Coordination Central Office; Chu Phú Mỹ, Director of Municipal Department of Agriculture and Rural Development and Head of Hà Nội Coordination Office for New Style Rural Area Construction Program and representatives from various departments and sectors.
In his speech, Chu Phú Mỹ said that OCOP products come from 171 producers. Of these, 367 products received four stars and the rest three stars.
The newly certified products in 2021 demonstrated the great efforts made by departments, sectors, localities and local producers to carry out the OCOP program in the city, Mỹ said.
He called on producers to continue to improve the quality, design and packaging of recognized products and to strengthen connectivity with other actors in the value chains in order to further develop their products.
So far, Hà Nội has certified 1,649 OCOP products, including four five-star rated products, another 1,098 four-star rated and 534 three-star rated.
Deputy Bureau Chief Ngọ Văn Ngôn said Hà Nội is taking the lead nationally in terms of the number of OPOP products and five-star OCOP products.
In addition to evaluating and classifying OCOP products, Hà Nội also paid special attention and organized events, fairs and seminars to promote OCOP products in domestic and international markets. Many exhibition halls of OCOP products have also been opened along with the development of handicraft villages and rural tourism.
Ngôn said that to help producers cope with the difficulties caused by the pandemic and resume production and business activities, his office has organized many investment and business promotion events and helped them to participate in activities. similar in other localities such as a Mekong Delta OCOP product forum held in Đồng Tháp province and the Vietnamese OCOP fruit and product festival in Sơn La province.
By the end of 2022, four other events showcasing Hà Nội's OCOP products and those of other provinces in the northern, central, central highlands and southern regions will also be held in the various districts of the city. To date, 488 OCOP products from 26 districts and municipalities have registered to take part in the event, far more than the 400 expected.
By 2025, the city aims to complete the evaluation and rating of at least 2,000 OCOP products, of which 3% will be potential 5-star products.
It also aims to ensure that all municipalities that meet the advanced criteria of the new style rural space construction program have OCOP products, and that at least 70% of the manufacturers of OCOP products are cooperatives, cooperative groups and companies.
The OCOP program was initiated by the Ministry of Agriculture and Rural Development in 2008. It is a program for the economic development of rural areas and also to help implement the national program of objectives on building a new style of rural areas.
OCOP products are produced based on the combination of local resources, traditional culture and advanced technology, thus promoting product diversification, quality, packaging and traceability of origin. —VNS