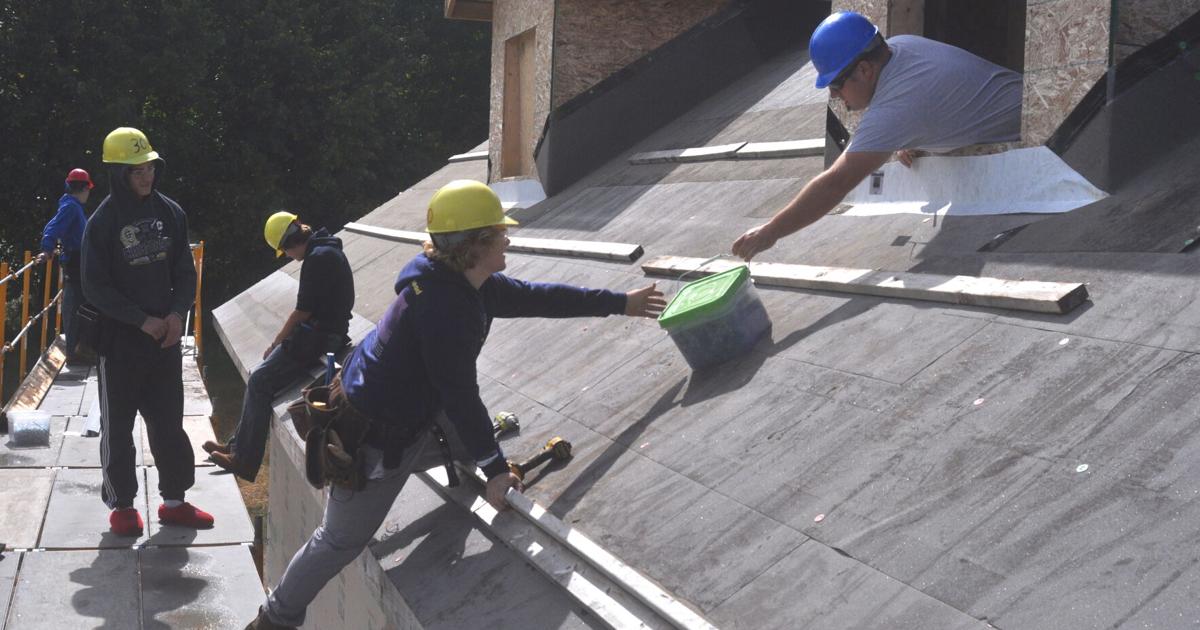 class CTC Applied Construction Technology tackles one of its largest home builds to date | New
CADILLAC — Students in the Applied Construction Technology program at Wexford-Missaukee Career Technical Center are at the heart of one of their biggest home building projects to date.
Students began work on the house – located just east of town on Route 45 1/2 – last year and as of Tuesday they had completed much of the structure's exterior features and were in the process of to do roof work, including the installation of synthetic felt and shingles.
In a typical year, Parapro program Tom Hurlbert said the class is able to complete all of the roofing and siding on a new home construction, allowing them to focus on interior work and complete the project in the second year.
Due to its size and complexity, however, this is not a typical project.
"It's way bigger," Hurlbert said. "It could extend into a third year."
"The truss package was more complex," confirmed program instructor Brad VanBuren. "Not your typical ranch like we've built in the past."
The home will be 2,700 square feet, not including the basement, and will feature four bedrooms, four bathrooms and an attached garage. VanBuren estimated that the market value of the home when completed will be $450,000 to $500,000.
Hurlbert said they very much enjoy taking the class out into the field while the weather remains okay, although he added that they also need to spend some time at the CTC doing labs and other classwork.
He said their goal for this year is to at least finish the roofing and siding of the house, and possibly start running electrical wiring inside. He said the students will also be pouring concrete in the garage to give the class a place to chop wood in the winter.
Sophomore Teddy Richards, 18, said he worked a lot with his grandfather doing carpentry work which first sparked his interest in enrolling in the applied technology program construction.
Richards said he really enjoyed his first year, especially being able to spend time outdoors doing practical work; one of his favorite aspects of the construction process is putting the framework in place, which he described as the "skeleton of the house".
"I love seeing him as he rides," Richards said. "It's interesting."
Xander Rickard, 17, said he was also enjoying the scoping phase of the project.
"You can see your work…and it's going up pretty fast," Rickard said. "You start from scratch and all of a sudden it's a house."
Rickard is also in his second year of the program. When he graduates, he plans to get an apprenticeship with an electrician.