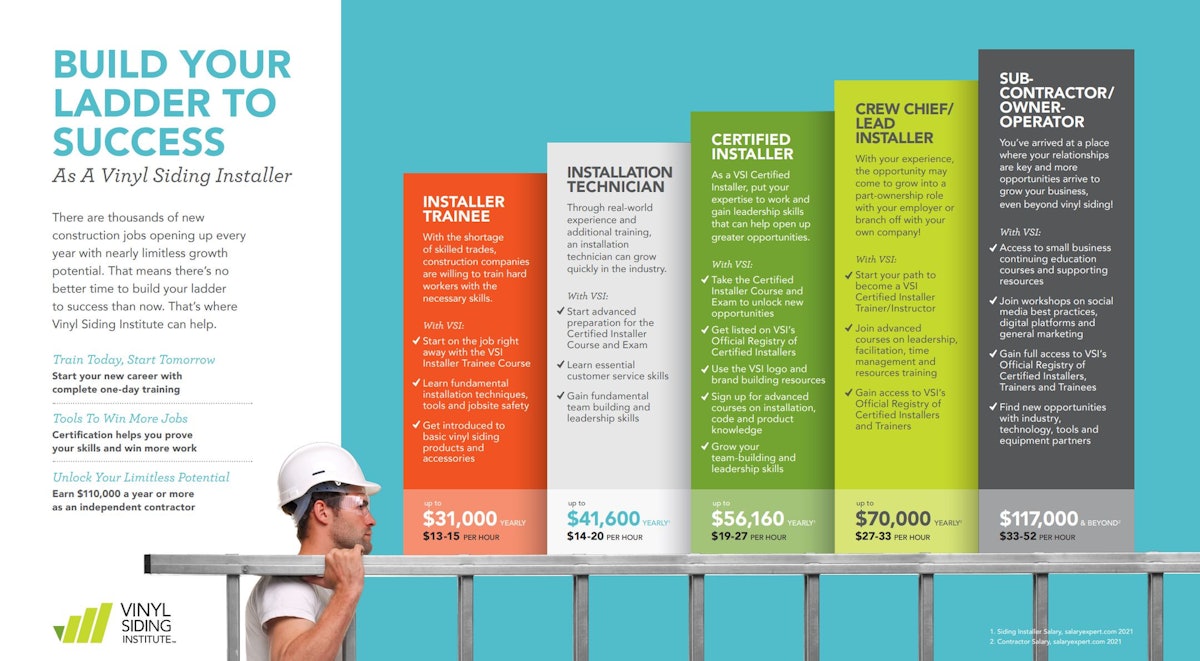 How Certifications Can Boost Your Construction Career
One of the biggest hurdles that keeps many entrepreneurs from taking on new work is having the right help. In fact, labor is a huge issue for contractors across North America.
Vinyl Siding Institute
One of the biggest hurdles that keeps many entrepreneurs from taking on new work is having the right help. In fact, labor is a huge issue for contractors across North America.
With over 800,000 jobs expected to be added to the industry by 2024 in the United States, the vinyl siding industry has positioned itself well as a leader in workforce development. work.
An estimated 3 million homes are clad each year, and vinyl siding is the most commonly used exterior siding, found on more new homes built each year. The Vinyl Siding Institute (VSI), a trade association for vinyl and other polymer siding manufacturers and suppliers to the industry, has worked diligently over the past few years to match career development opportunities with the multitude of people looking for real growth in a profession. which offers security, stability and greater accessibility.
The Career Path to Success program
The Career Pathway to Success program is designed to help aspiring professionals find a clear path to a successful career in the construction industry. It can also be one of the few legitimate career paths where one could start out earning a living wage as an installer-trainee in their first year to earning a six-figure salary as an owner. -operator / subcontractor.
Certifications are an inexpensive way to prove that an industry professional keeps their expertise fresh and current. They are important for several reasons:
For the professional:

Professional certification gives contractors confidence in their abilities because it proves that their skills have been assessed and approved by a reputable professional organization.

For the end user: Professional certification shows clients, home and building owners and other customers that contractors are committed to their profession and are well trained/educated in their craft.
VSI's Installer Certification Program is an integral part of its Career Pathway to Success program, beginning with the one-day VSI Installer-Trainee course followed by the preparation installers receive for the course and exam. certified installer. To build on this momentum, VSI is creating a customizable recruiting tool that companies can adopt as their own Career Pathway to Success program.
Make unprecedented progress in workforce development
Despite the disruptions of the COVID-19 crisis that have impacted so many industries since 2020, VSI has made progress in its workforce development efforts.
In April 2021, the organization trained over 1,200 new Certified Installer Trainees – its best month yet. (As of April 2019, VSI had 1,600 professionals in its entire workforce development database). At the end of July 2020, the association had up to 5,100 professionals in the sector, with 3,500 new certified installers.
In 2022, by the end of July, VSI's program is expected to reach 6,500 industry occupations, from trainees to owner-operators and instructors.
The installer charts his own path to success
Daun Williamson is the perfect example of how the Career Pathway to Success program model can provide professionals with exciting career opportunities in the trades.
After fulfilling careers in the United States Navy and her state's youth correctional system, Williamson reinvented herself as a full-time student at the Pennsylvania College of Technology, majoring in building construction technology. Williamson's education in construction began many years ago when she worked for her father, a well-respected contractor.
She recently graduated last spring and earned the following VSI certifications as an Installer Trainee, Certified Installer, and Certified Installer Trainer.
Although she is qualified and willing to train aspiring vinyl siding installers to become certified, she also wants to become an instructor at her college or another good technical school. In addition to teaching, Williamson views his multiple certifications as marketable assets for contractors, home builders and other stakeholders who could benefit from using vinyl siding for their projects.
After becoming a certified trainer, Williamson began scanning every home in her community. She said she's excited about the possibilities of one day installing vinyl siding on some of these properties or teaching others in the trade how to ensure a quality installation.