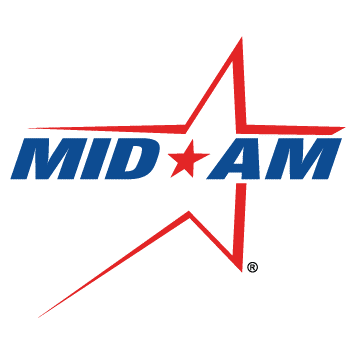 Mid-Am Building Supply announces partnership with KWP Siding Products
MOBERLY, Mo. (PRWEB)
April 22, 2019
Mid-Am Building Supply announces exclusive partnership for its engineering siding needs. Mid-Am management has selected KWP Siding Products to deliver its proven and leading edge prefinished and primed coating solutions to the mid-US, offering a new green alternative to the market. This partnership highlights Mid-Am's 52-year history of distributing best-in-class products made by world-class manufacturers to its strong dealer base in Heartland.
"Having been a leader in the coating market from the start, we knew we needed a product that would lead to the success of our customers and our customers' customers, a company that we could partner with, on which to depend on and, most importantly, trust, "said Al Knaebel, President and CEO of Mid-Am Building Supply. "We are delighted to partner with KWP to offer our customers a cutting edge product that differentiates us from our competitors and extends our leadership position in the markets we serve. "
"We chose KWP because of our commitment to listening to the needs of our customers and providing value-added products," said Abhi Singh, vice president of sales and marketing for Mid-Am Building Supply. "This new alliance between us, our resellers and KWP gives us complete confidence to provide best-in-class products, world-class service and fully support every product sold. "
Here are some of the benefits of this new alliance:

The option of primed or prefinished color selections, available both as standard and as a distinctive rustic offering
A 50/25 year warranty backed 100% by the manufacturer
An ecological product that is safe, durable, easy to install and modern
Uniqueness in the market that allows builders, contractors and architects to separate their business from that of their counterparts
A diversified product line that includes a variety of cladding profiles, soffits, moldings and one-piece corners.
For more information visit http://www.midambuilding.com/index.php/resources/literature/brands/kwp.
About Mid-Am Building Supply: Founded in 1967, Mid-Am is the premier distributor of the finest construction and woodworking products. Based in Moberly, MO, Mid-Am sells directly to lumber yards, construction product dealers, and other distribution organizations in the mid-US. They specialize in carpentry, roofing, siding, windows, deck fasteners and trim. The family business has 350 employees, operates 6 distribution centers and has a fleet of over 50 vehicles. For more information visit http://www.midambuilding.com.
Share the article on social media or by email: