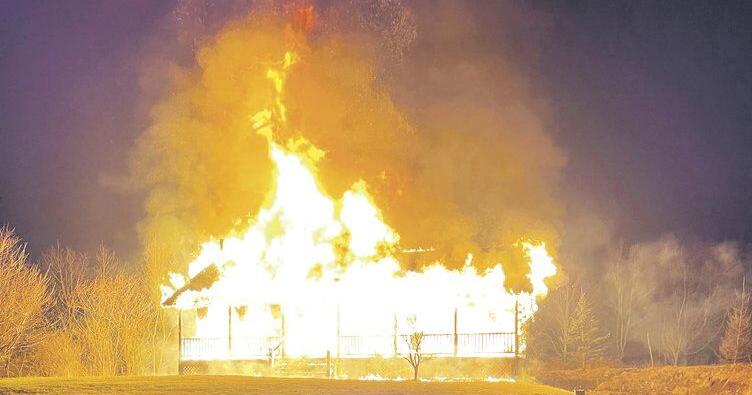 Overnight fire destroys home in Trout Creek | Local News
An early morning fire destroyed a home in Trout Creek on Monday, April 11.
According to Trout Creek Fire Chief Josh LaTourette, the department was called to the fire next to Rhonda's Grill & Roadhouse at 9275 State Highway 206 at 4:08 a.m. and the department arrived on the scene at 4:20 a.m.
"The house was completely submerged when we arrived on the scene," LaTourette said. "The house is a total loss."
The house was part of the restaurant's property and was empty, he said. The garage between the house and the restaurant was damaged by the heat, but did not catch fire.
"The fire melted the coating," he said. The restaurant was not damaged.
In addition to the Trout Creek Fire Department, the Masonville, Sidney Center, Walton, and Sidney Fire Departments responded to the scene. Franklin Fire Department was on standby at Sidney Center Fire Station, Depot Fire Department was on standby at Masonville Fire Station and Delhi was on standby at Walton Fire Station, a said LaTourette. Hancock was on standby for the southern portion of the Trout Creek Fire District near the Cannonsville Reservoir, he said. About 35 firefighters fought the blaze.
He said when firefighters arrived they decided to fight it from the outside because "we didn't know if there were any holes in the ground."
In addition to fire departments, the Delaware County Emergency Services Coordinator, NYSEG and the state Department of Transportation were on the scene, he said.
"The DOT was directing traffic and providing salt for the road when it got icy," he said. "I want to say a big thank you to everyone who helped us out today."
He said investigators from the state's Office of Fire Prevention and Control said the cause of the fire was accidental and started in the home's laundry room. According to a Daily Star article published in February, owners Dave and Rhonda Stanton planned to rent the house as an Airbnb.
Vicky Klukkert, editor, can be reached at [email protected] or 607-441-7221. Follow her @DS_VickyK on Twitter.