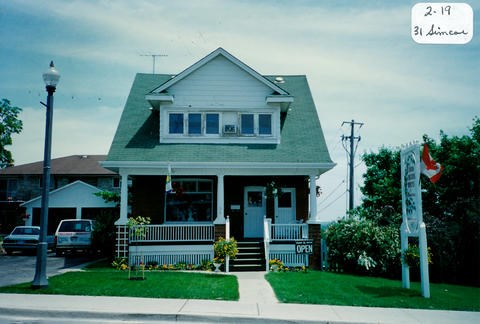 POSTCARD MEMORIES: Bradford's Wilkinson House reflecting the 1920s era of arts and crafts
The Wilkinson House was built on Simcoe Road by Art Saint and George Stoddart around 1923 during the arts and crafts era
Postcard Memories is a series of historical sights, stories and photos of Bradford and the region, a trip down memory lane on a Saturday morning.
The Wilkinson House located at 31 Simcoe Road. is a middle building that was built by Art Saint and / or George Stoddart around 1923 in the Arts and Crafts style.
The era of arts and crafts lasted from the 1880s to the 1920s, an international trend in fine arts and the decoration of durable and well-made products.
The house was sold to Chris Long, his daughter and husband Fred Wilkinson (a printer for the Bradford Witness newspaper) and daughter Marjorie.
When they moved to Toronto to work for the DeHavill and Aircraft Company during WWII, the house was sold to a market gardener whose family lived there for many years.
The two-bay one-and-a-half-storey bungalow has a simple shape with an asymmetrical facade and a straight plan. A large, steeply pitched gable roof extends downward to reduce the scale of the building from the street. It covers the open porch and rests on wooden half-columns on brick pillars. There is an off-center hall entrance from the porch. The porch (front entrance) is raised and has a simple wooden banister and baluster. There are wide window openings with low heights from floor to ceiling. A wide strip of windows on the front of the skylight emphasizes the horizontal lines and volume of this house.
The large windows are inserted into rectangular openings. The smaller second story windows in the front dormer are offset from the main floor windows and have solid wood sills and moldings. The windows and the second entrance door are not original. A mix of exterior siding materials is common to this style. The house has returned from the eaves to the roof of the dormer. The wood frame construction has brick, masonry siding and vinyl siding on the dormer. The original coating would have been wood. There is a painted concrete foundation.
-BWGPL archives