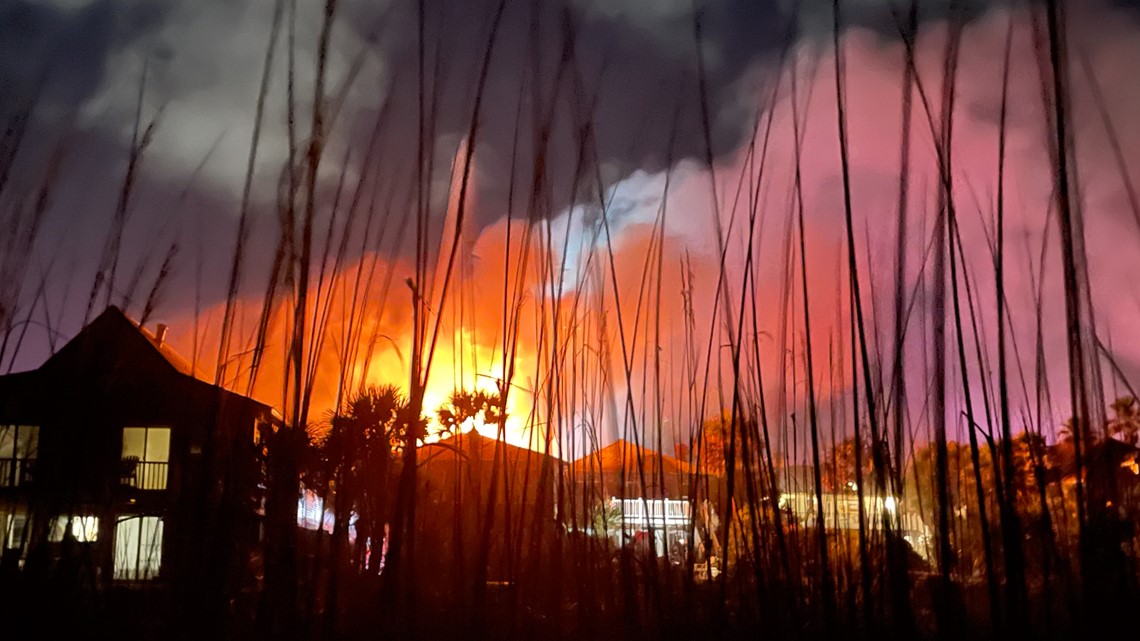 Second fire alarm in Atlantic Beach apartments and house
It took two hours to bring the fire under control, officials said. Some of the six apartments that caught fire were completely destroyed.
JACKSONVILLE, Fla. — Six units in an Atlantic Beach apartment complex caught a "heavy" fire around 1:45 a.m. Tuesday morning, according to Capt. Eric Proswimmer of the Jacksonville Fire Rescue. The fire then spread to the attic of another house.
Firefighters called for a second alarm "immediately," Proswimmer said – multiple alarm fires mean a fire is serious and difficult to contain.
No injuries have been reported so far and none of the residents have requested Red Cross assistance, Proswimmer said.
It was initially reported that there were people inside, but they were all out by the time JFRD arrived, just three minutes after the initial call. Firefighters pulled a dog from one of the buildings.
Some of the residents of the apartment complex were lucky – their apartments were only partially damaged. But some of the apartments have been destroyed and those living there will be left homeless, Proswimmer said.
It is not known if the house involved in the fire will be habitable, but it suffered severe damage.
However, Proswimmer says JFRD made a valiant effort to extinguish such a large fire and prevent further spread and injury. "I can't say enough how the men and women in our department have done this. I know, to everyone it looks bad and all like that, but it's a win-win for us because 'there were no injuries and all the obstacles we faced.
He particularly credited one officer: "One of the things was the first guy on the scene, he works in this neighborhood, he knows this neighborhood, he knew to call the second alarm immediately. Getting those resources fast is a Huge advantage for us."
The area has single-lane roads and is heavily populated, so setting up equipment is difficult and it's important to be one step ahead, Proswimmer said.
The State Fire Marshall is on the scene and will investigate the cause. One of the reasons the fire was so severe was because the buildings had cedar siding, which Proswimmer says is "highly flammable and spreads."
The house that caught fire is an older house and the structure made it difficult to access the attic.