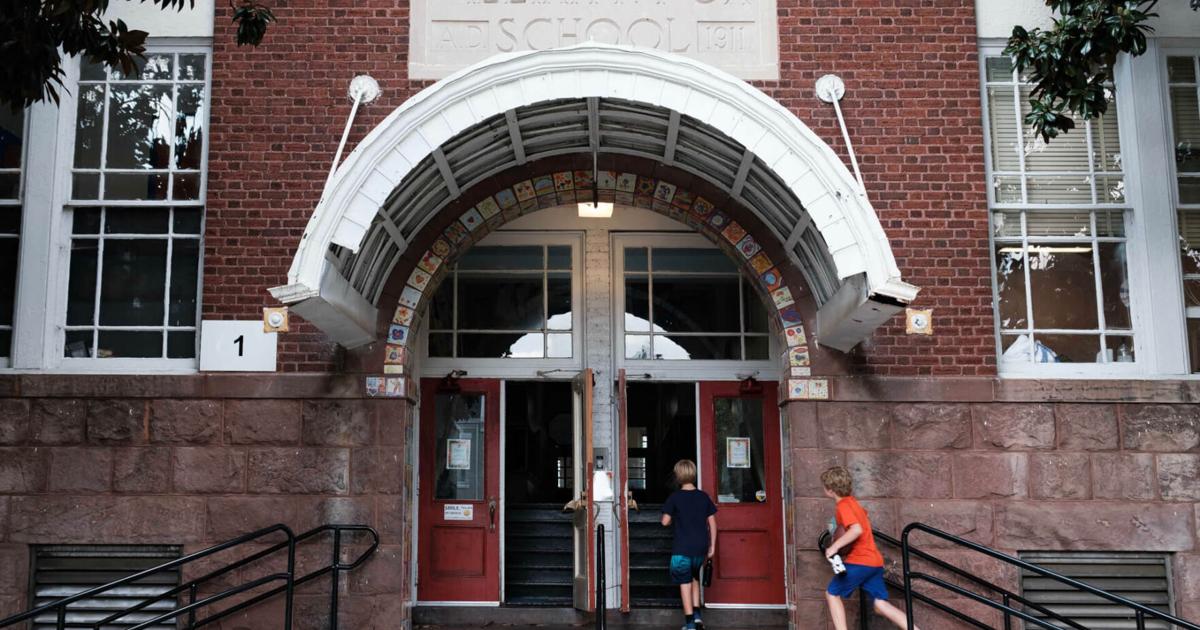 Senate and House committees to hear bills that would require schools to have school resource officers | News
Legislation that would require every public school in Virginia to have a full-time police officer on duty is expected to be presented to House and Senate committees this week.
Senator Bill DeSteph and Del. Karen Greenhalgh, both Virginia Beach Republicans, filed corresponding bills in the Senate and House of Delegates this would require each school district to establish contracts with their local law enforcement agency to staff each school with at least one school resource officer.
An SRO is "a certified law enforcement officer hired by the local law enforcement agency to provide law enforcement and security services to public elementary and secondary schools in Virginia," according to the state code.
The bills state that any division that does not fully meet personnel requirements is not eligible for a state grant or waiver.
"It's just so parents know their kids are safe," Greenhalgh said Thursday.
The bills are similar to legislation passed in Florida after the 2018 Marjory Stoneman Douglas High School shooting. If passed, the legislation would dramatically increase the number of schools with a law enforcement officer at full time on duty, especially in elementary schools, which in many localities a single officer oversees several schools.
Proponents of the legislation are pushing it largely as a safety measure, while opponents say it is legislative overbreadth and risks criminalizing misconduct typical of schools.
"We should have safety and security in all of our schools," DeSteph said.
The bills mark a break with some of the police reform efforts that followed the killing of George Floyd by Minneapolis police officer Derek Chauvin.
SRO programs often hang in the balance of public opinion. School shootings typically fuel calls for a greater police presence on campus, but when officers end up arresting students or being caught on camera using excessive force, demands for their removal mount.
"The classroom environment must be safe"
A handful of Virginia school boards have eliminated school resource officers in the past two years, which Greenhalgh said was part of the reasoning behind the proposed legislation.
In May 2021, the city of Alexandria voted to abolish ORS, but reverse course in October after several incidents raised safety concerns.
Richmond Public Schools considered phasing out the SRO program in 2021but eventually approved a series of reforms that required more training for officers, established a diversion program to end on-campus arrests for non-violent offenses, and required officers to wear a "soft" uniform rather than the typical police uniform.
Governor Glenn Youngkin has made SRO legislation a priority, urging lawmakers to act during his January 17 speech to the Joint Assembly.
"The classroom environment should be safe, so children can learn," Youngkin said. "I ask members of this General Assembly to prioritize school safety by putting a school resource officer on every campus."
According to an analysis conducted by DeSteph's office, the total cost to ensure that every school has an agent would be approximately $40.3 million per year, half of which is covered by the state and the other half by localities. DeSteph said he filed a budget amendment to cover the localities portion to avoid creating an unfunded mandate.
DeSteph said his staff started looking into the matter and discovered that there are currently 705 public schools in Virginia without ORS, or about 36% of Commonwealth schools.
DeSteph said his legislation was largely informed by a 2019 study on SROs, led by the Virginia Commission on Youth, a bipartisan body made up of nine lawmakers and three appointed governors.
The study did not specifically recommend legislation requiring ORS in every school, but many of the sources it cites generally associate safer schools with the presence of highly trained ORS.
Opposition
Opposition to the bill tends to revolve around two axes: concerns about legislative overbreadth and concerns about turning typical misconduct into something that involves law enforcement.
Sen. Chap Peterson, D-Fairfax City, is often a swing vote in the Senate tightly controlled by Democrats, siding with Republicans on some issues involving education. Peterson said Thursday he opposes the SRO bills because they override localities' ability to control their own school districts.
"There are extraordinary situations, like last year with the reopening of schools where we have to intervene because the school boards are not budging," Peterson said. "There may be a need for an ORS (in every school), but I don't know."
Of the. Jeffrey M. Bourne (D-Richmond) said the proposals raise concerns about children having negative encounters with police at a young age.
Virginia had the highest number of student referrals to law enforcement, with 16 referrals per 1,000 students, according to a 2015 report from the Center for Public Integrity. That's more than double the national average of six per 1,000 students.
A study conducted by Virginia Tech and cited in the Youth Commission's 2019 study of ORS disputed this finding, reporting that only 2.3 out of 1,000 students were actually required to appear before an admissions officer in court. . However, Virginia Tech's analysis also found that minorities and students with disabilities were disproportionately represented among students referred to law enforcement.
The ACLU of Virginia has strongly opposed the bills, saying that police in schools too often become the go-to person for enforcing discipline, which increases the likelihood that routine misbehavior could result in criminal charges.
"School police disproportionately target students of color and students with disabilities, and the reality is that the presence of an SRO undermines the academic environment and allows for the escalation of routine administrative discipline," said said the ACLU's Virginia Policy Director Ashna Khanna.
"Virginia should talk about how we're divesting SRO funding and reinvesting in school nurses, counselors and other support services," Khanna said.
Bourne said lawmakers should view school safety as a holistic issue that encompasses ensuring schools are structurally safe and that there is adequate funding for mental health and school counselors.
"We all have a collective responsibility to make sure our children are safe," Bourne said. "To me, that doesn't necessarily mean putting more guns and law enforcement in classrooms and schools."
Greenhalgh said local school boards could create policies to ensure SROs achieve their goal.
"I certainly hope that the parents will not be afraid, and I hope that the presence of law enforcement officers in the primary school will serve the interest of the community more," he said. she stated. "Put kids at ease and know the police are there to protect them, and maybe take away some of the fears kids have."
Greenhalgh and DeSteph said they expect their bills to go to committee this week.