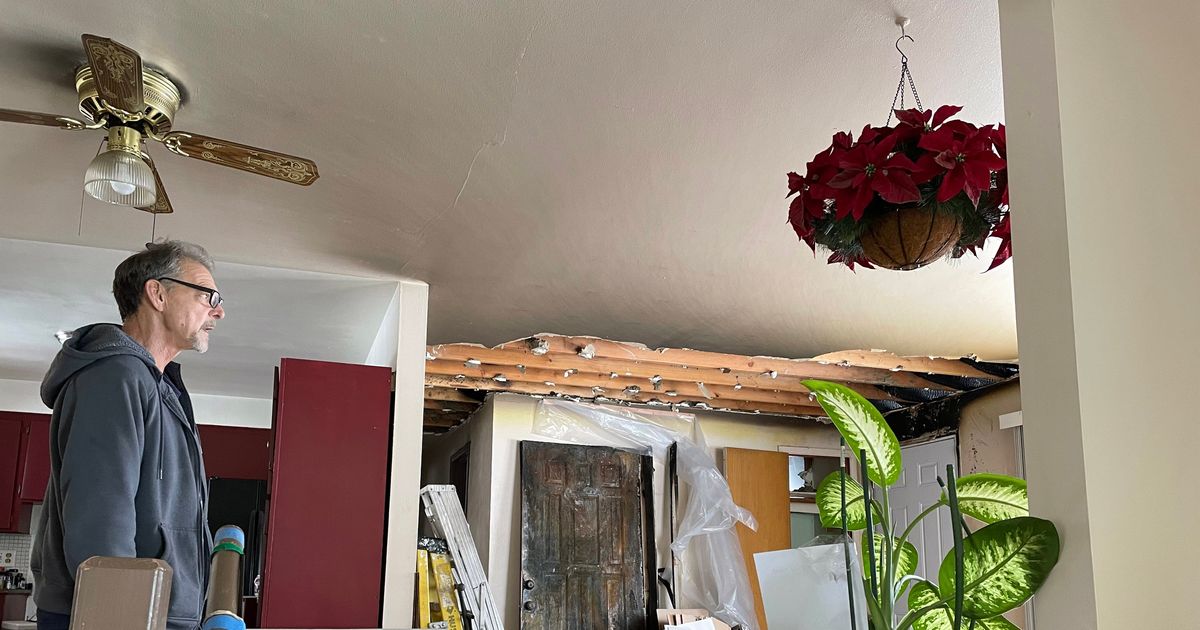 Spokane Valley homeowner credits his cat with saving lives when his home burned down in December
Shawn Mills credits one of his cats, Zeus, for saving his and his family's life when a fire broke out in their home at 3 a.m. on December 21.
"He kept jumping up and down and looking out," Mills said.
The cat's antics prompted his wife to look outside, where she saw flames. She yelled at Mills, who came down to the basement to wake up her adult son, who was staying with them. They took out their two dogs but their two cats, Zeus included, escaped to the basement. Mills said he grabbed a fire extinguisher and was going to pursue them when his wife told him unequivocally to get out.
"I was going to try to save anything," he said.
The cats were found in the basement, safe and sound, after the fire was extinguished. Mills said his smoke detectors were not working because he took out the batteries to replace them and forgot to put in new ones.
A fire investigator traced the cause of the fire to the Christmas lights hanging on the front of the house. Spokane Valley Fire Department Fire Marshal Greg Rogers said the investigator couldn't be more specific than that.
"They eliminated all other sources, but they can't say for 100% sure that it was the lights," he said. "There is nothing else it can be. It could have been a pinched wire, it could have been a short, it could have been a number of things.
Mills and his son had spent a lot of time decorating the house and yard for Christmas. "I had the place that looked like the North Pole," he said.
He said he didn't know how the lights could have caused the fire because they were out. The lights were on a timer and were on from 4pm to 9pm each day. "I can't understand this," he said.
Rogers said anything plugged in still uses electricity, even if it's turned off, like the Christmas lights were at the time of the fire. "Even if it's turned off, there may still be energy," Rogers said.
The fire blackened the front of the house and melted the siding. He burned the roof of the porch and spread out to the attic of the house. As the fire was extinguished, firefighters attempted to limit their damage by tearing off the ceiling to reach the blaze, Rogers said. "We wanted to make sure it was habitable," Rogers said.
Mills said he started cleaning the insulation and torn drywall later that morning. He said he hoped he could get a fire restoration company to help clean up and be home in about a week or so. But her insurance agent Pemco and a contractor called to assess the home told her to expect repairs to take a year or more.
"I didn't know it wasn't the fire that was the worst, it was the smoke," he said. "There was a lot of smoke.
While the contractor was still there that morning, he noticed smoke billowing from the attic. The firefighters returned to find that the fire had rekindled. It's something that rarely happens, Rogers said, but can happen if a single ember is missed and smoldering. On large fires, it's not unusual for a team to stay on the scene for 12 hours to watch for outbreaks, but that usually doesn't happen with smaller fires like the one at Mills' home, Rogers said.
The front door to Mills' house has already been replaced, but once opened, visitors can look directly through the ripped ceiling and see the charred underside of the house's roof. Portions of the ceiling were torn off in the entrance, an adjoining bedroom and the living room to put out the fire.
"I want to cry when I watch this," Mills said. "One minute everything is fine and you are waiting for Christmas, the next minute the house is on fire and you are running for your life."
Mills' father bought the house in 1973 and Mills spent part of his childhood there. He inherited the house in 1996 after his father's death and he and his family have lived there ever since.
He has been out of work since he crashed a vertebra and ruptured four discs in his spine while working in a printing house. Mills has had four lower back surgeries since then, none of which has relieved his pain. Despite this, with her house burned down and her truck broken down just days after the fire, Mills is trying to be positive. Her family lives in a hotel, but will soon be moving into a rental house until their house is repaired.
The most important thing is that his family and pets are well, Mills said. "The rest can be taken care of," he said.