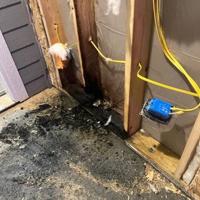 Watertown Fire Rescue responds to house fire in Kranzburg | Local News
At approximately 3:25 a.m. on March 28, Watertown Fire Rescue was dispatched to 200 New Trier Ave in Kranzburg for a report of a burning wall outside the home. Upon arrival at the scene, crews found a smoldering exterior wall. Residents at the scene reported that they woke up smoking in the house and were able to locate the fire burning on the outside wall of the house. The owner was able to extinguish the fire before Watertown Fire Rescue arrived on the scene.
The owner reports that he had a 5 gallon bucket next to the wall which he used to dispose of cigarettes. WFR removed the liner and tarp to check the extension. WFR used a pressurized water canister to douse a few smoldering spots and to cool the area that had burned. Watertown Fire Rescue would like to remind the public to keep containers of cigarette butts away from the home. WFR would also like to remind the public to use a metal container rather than a plastic container.
Watertown Fire Rescue responded with 4 personnel and two trucks and a support vehicle. Watertown firefighters were assisted at the scene by the Codington County Sheriff's Office. WFR remained at the scene for approximately 30 minutes.
-Newsflash as written by Watertown Fire Rescue